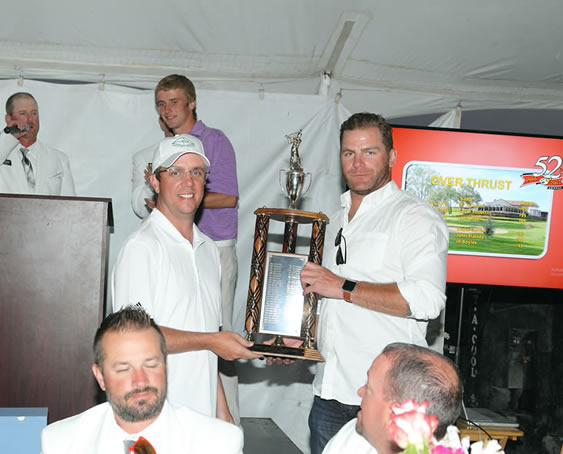 Welcome to the 52nd annual Wildcatter's Golf Tournament! I am extremely honored that my wife and I were asked to chair this year's tournament alongside an amazing board of directors. I know that with the help of our incredible sponsors and players, this tournament will be just as great as it has been in the past. This year's tournament will once again be held at the Casper Country Club on July 20th thru the 22nd. You will soon see some significant changes to the website to improve its user friendliness. Please continue to check in as it will be the source of all tournament information. Should you have any unanswered questions regarding the tournament or its associated activities, please don't hesitate to contact any of the board members listed on the website. Please also check out our Facebook page, Wildcatters Golf Tournament! We will do our best to keep tournament information up to date there as well. For individual players or those wishing to get on the standby list, registration is currently available through the website. Company player registration will be available in early April.
Our tournament begins Thursday, July 20th with a practice round and tournament registration, all at the Casper Country Club. Please call the CCC Pro Shop to schedule your practice round tee time. The practice round is free to paid/registered golfers of the Wildcatter Golf Tournament. Friday, July 21st and Saturday, July 22nd are the actual tournament dates. The golf tournament is comprised of teams of 4 randomly selected golfers. It is important that each player has updated their most current golf handicap when registering, this helps ensure fair play. Each team will golf an AM/PM or PM/AM, which is also randomly selected. Your golf team members and flight selections will be given to you on registration Thursday. Please be sure to plan any travel arrangements to accommodate golfing either flight selections given to you.
It is the Board's mission to provide the highest quality golf tournament in the Rocky Mountain Region. To achieve this, we rely heavily on our sponsors. It is with their support that the Wildcatter's Golf Tournament has earned the reputation as one of the best oilfield golf tournaments held anywhere in the world. To all these great companies shown on the sponsor page as well as shown on the running banner on the home page, we say THANK YOU for your past support and look forward to your support once again this year. While we know the recovery in our industry has just begun, we trust we will still have strong support from our sponsors.
The Board of Directors is constantly striving to improve the tournament and its associated activities. To that end, we welcome any thoughts from our players, their spouses, or our sponsors as to what we can do to make this event as enjoyable as possible.
Looking forward to seeing you all,
Jobe Reese
Chairman